Opening hours
Laser gaming is possible daily starting at 12:00.
If you would like to book before 12 noon, please get in touch.
Visiting address
Duitsekampweg 45
6874BV Wolfheze
(visit by appointment)
Postal address
ZapTeam Outdoor,
Burgtstraat 1
6701DA, Wageningen
Locations
The coolest location is of course our fantastic ZapTeam Arena in Wolfheze!
If you just want to play laser tag in the forest, we know several cool forest locations around Ede, Wageningen, Oosterbeek, Rhenen, Veenendaal and Arnhem.
A private location near you is also always possible, in the forest, a gym or other indoor location.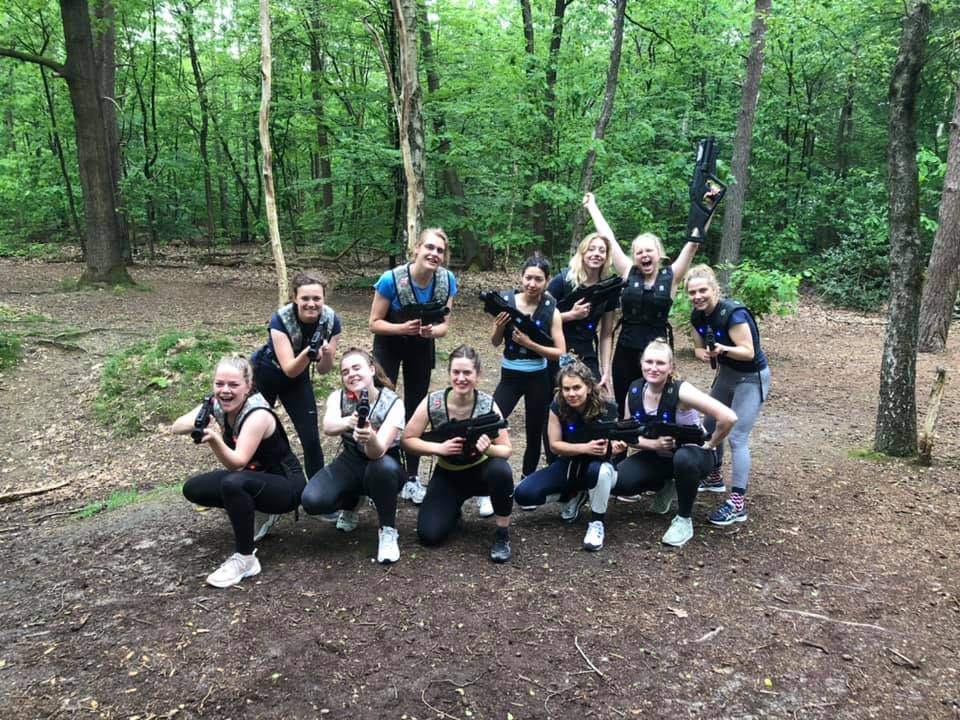 F.A.Q.
These are some of the questions we often get. Perhaps the answer to your question is there.
Answer not found?
We are available daily by phone between 8:30 and 20:30 on tel. 0317 23 40 04, by email: info@zapteam.nl or via WhatsApp
Do you have your own location?
Yes indeed! Our own ZapTeam Arena in Wolfheze is excitingly decorated especially for laser gaming. Our arena is easily accessible from Ede, Arnhem and Nijmegen: 5 minutes drive from the A12 and A50 motorways.
Do you also provide food and drink?
You may bring your own drinks and snacks, or purchase them from us.
Coffee, Tea or Lemonade or a bag of chips are available from us for €1,-.
Picnic tent
For an additional €15, you can also use our cozy picnic tent for 30 minutes before or after. Plates, cutlery and cups and free lemonade are all part of the process. We do the dishes. Please bring back your own waste!
Please note: Alcoholic beverages (18+) are allowed, but being tipsy or drunk is not tolerated.
Can I play outside of your regular hours?
Maybe it will! Our normal play times are between 12:00 and 21:00. If you would like to play earlier or later, please contact us and we will see what is possible.
How many people can I laser tag with?
We have enough laser guns to laser tag 16 people at a time.
If you want to play with more than 16 people, the group rate applies. In that case, we will create smaller teams and a competition schedule. The teams then take turns playing. But fortunately, watching is also fun and exciting!
We can play Lasertag with up to 4 teams at a time.
Are the lasers safe?
Yes. In fact, no lasers are used at all! Our laser tag guns work with infrared light. That's 100% safe!
What is laser gaming?
Laser gaming is an active game. You shoot at each other's guns with infrared. It is therefore 100% safe for the eyes. By taking cover you make sure you don't get hit and with good aim you hit the other person. You can play all kinds of game modes, for example capture the flag, but you can also reenact computer games in real life, such as Fortnite, Counterstrike (CSGO), VALORENT and PUBG.
How does the kickback effect work?
In our laser guns there is a system that causes your gun to jump back a very small amount when you shoot.
We use that kickback effect with groups 12 years or older at playtimes starting at 4:00 p.m., in the final rounds of play.